AI Tool Description
VOICEplug AI
VOICEplug AI is an advanced AI-powered platform that offers voice-enabled ordering and conversational solutions for restaurants, drive-thrus, and kiosks. It revolutionizes the way businesses can interact with their customers, providing an interactive and natural language-based ordering experience.
AI Ordering and Natural Conversations
VOICEplug AI allows restaurants to offer an interactive and conversational ordering experience to their customers. By integrating AI solutions with existing phone systems, call centers, drive-thrus, or online ordering systems, businesses can accept orders through natural language voice conversations and commands.
With VOICEplug AI, restaurants can enhance customer satisfaction, reduce labor costs, and increase the average check size per order. The platform is designed to address the pain points faced by businesses, such as lost revenue during peak hours, the availability and cost of skilled labor, growth challenges, increased costs with order volume, and dependency on third-party apps.
Key Benefits and Features
Increased Revenue: With best practices like upselling and cross-selling, no customers are lost, and all customers are served, maximizing revenue potential.
Reduced Labor Requirements and Costs: By automating the order-taking process, businesses can lower their labor requirements for taking orders, allowing staff to focus on more productive tasks.
Easier Scalability: VOICEplug AI easily scales to meet increased demand, ensuring businesses can efficiently handle higher order volumes.
Reduced Costs: As order volumes grow, VOICEplug AI minimizes the associated cost increase, making it an affordable solution for businesses of all sizes.
Reduced Dependency on Third Party: Restaurants can reduce or eliminate their reliance on third-party apps, gaining direct access to their customers and maintaining full control over the ordering process.
Voice AI Solutions
VOICEplug AI offers different voice AI solutions tailored to various business needs:
VOICEplug Phone AI: This unique AI-enabled platform allows customers to place food orders using natural language voice conversations. By interacting with a voice bot, customers can easily convey their order preferences without the need for traditional phone interactions.
VOICEplug Drive-Thru AI: With this solution, customers can place drive-thru orders using voice commands. Leveraging voice recognition and natural language processing, customers can simply drive up to the speaker, interact with the voice AI agent, and proceed to the collection point, improving efficiency and customer experience.
VOICEplug Web & Mobile AI: By integrating with existing web and mobile applications, this voice-driven food ordering solution enables customers to place orders using natural language voice conversations. Customers can easily navigate menus, customize orders, and complete payments using voice inputs.
Visit website
VOICEplug AI AI tool was published in our directory on September 26, 2023.
Last updated: September 26, 2023.
Other related tools
SoundHound is a provider of Voice AI solutions. Their advanced conversational intelligence platform enables voice-enabled interactions for various industries and use cases, including automotive, smart devices, hospitality, and restaurants. They offer a range of products like speech recognition, natural language understanding, content domains, and more.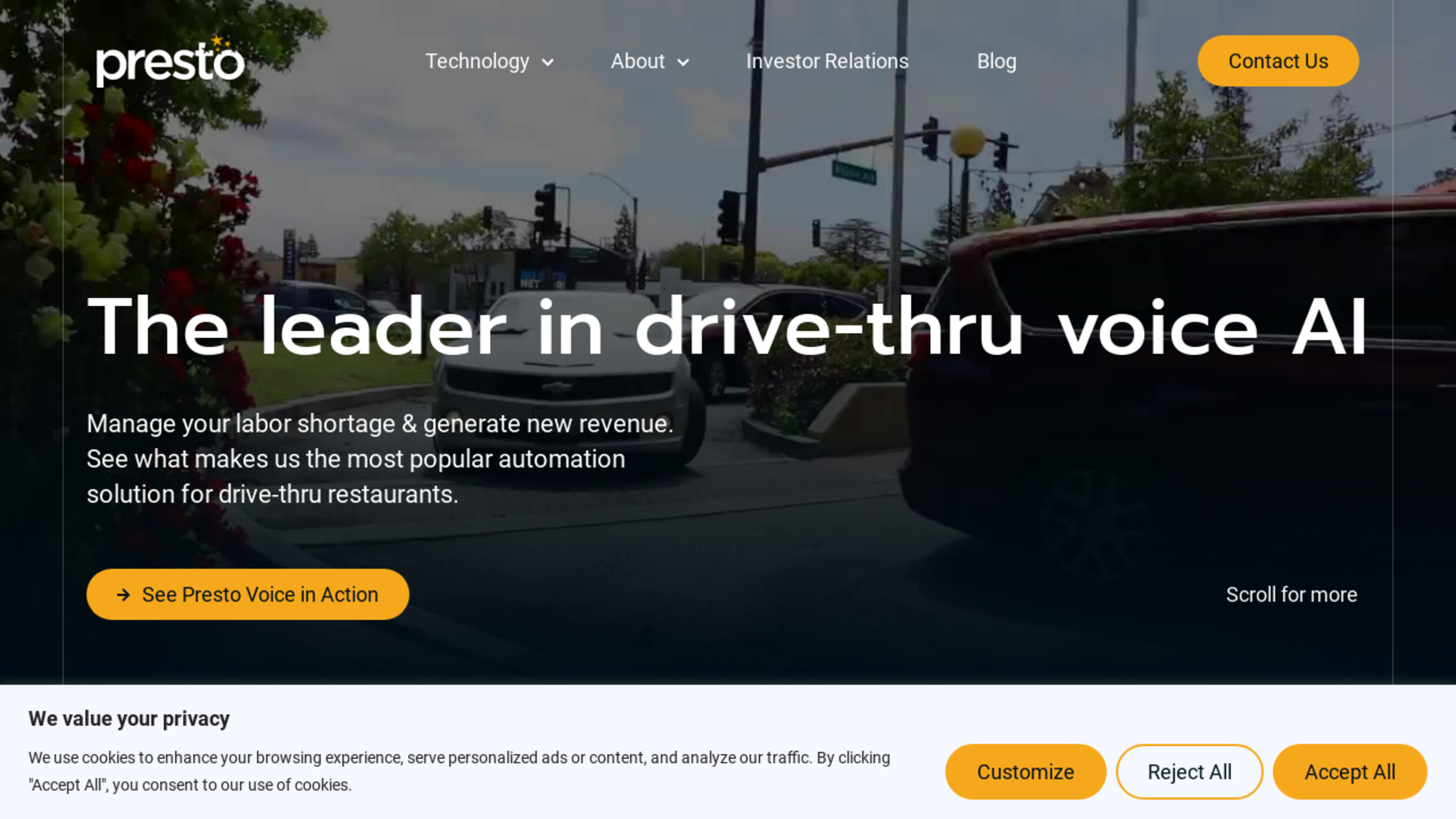 Presto Voice is an AI-driven automation tool for drive-thru restaurants, offering fast installation, labor cost savings, and improved operational efficiency.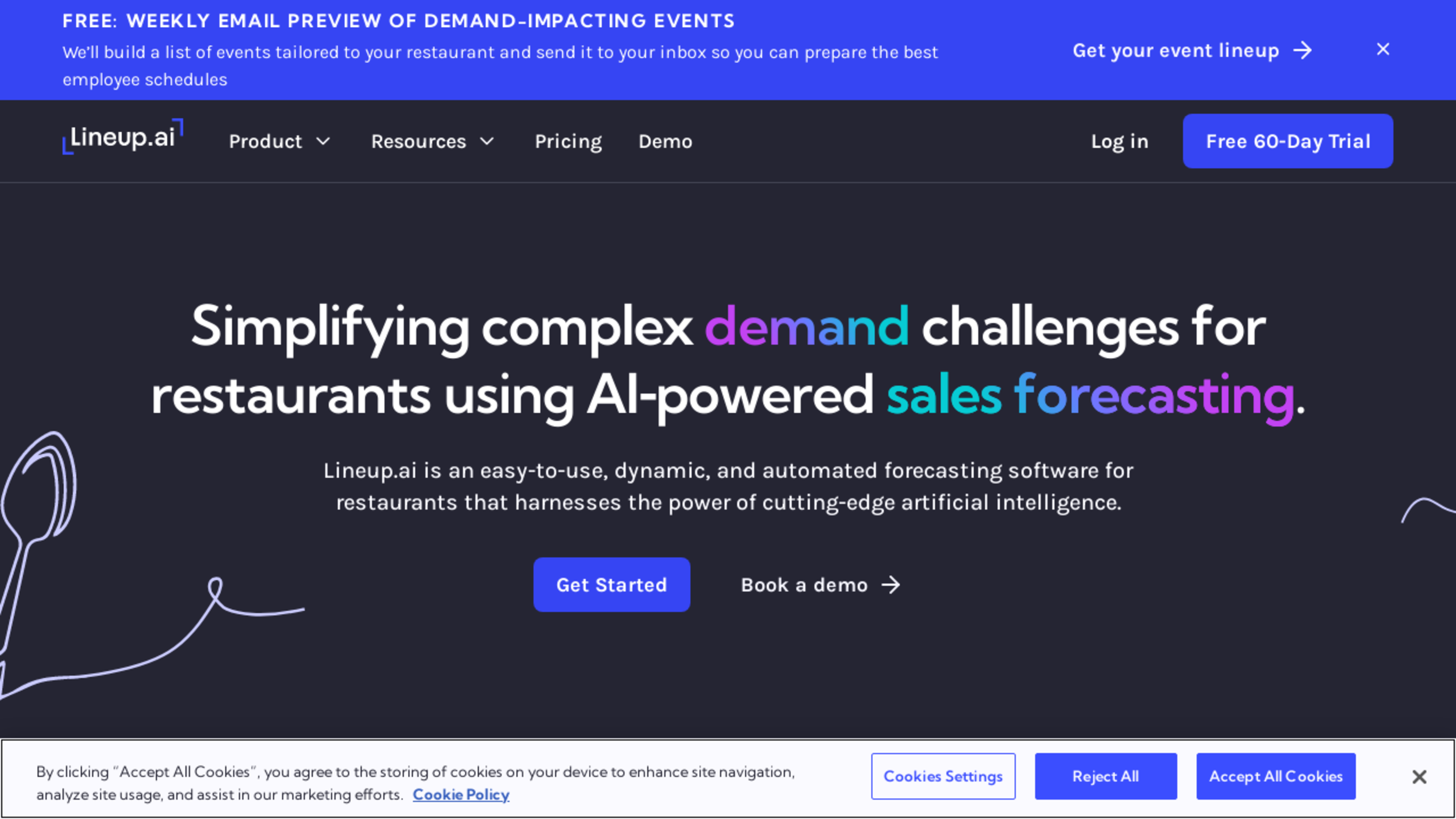 Lineup.ai is an AI forecasting software for restaurants that optimizes operations by accurately predicting demand, avoiding overstaffing, and increasing profitability.