What is Supermeme.ai?
Features
Text-to-meme: Enter any text and let the AI generate memes for you.
Themed Memes: Generate relevant memes on any topic using AI.
Own Templates: Upload an image and let AI generate memes, turning yourself into a meme.
Meme Templates: Search and choose from a collection of over 1000 high-quality manually curated templates.
GIF Memes: Generate GIF memes by entering text and leveraging AI.
Multilingual Memes: Generate memes in over 110 languages by controlling input and output language.
Meme APIs: Utilize Supermeme.ai's APIs to integrate meme generation into your own applications.
Meme Maker: Edit any meme template to create your own customized meme.
Saved Memes: Save memes to your profile for easy access anytime in the future.
Use Cases
Supermeme.ai caters to various use cases, including:
Marketers: Leverage AI-generated memes for social media, content, and advertising purposes.
Educators: Simplify complex concepts and make an impact by using memes as teaching aids.
Influencers: Engage and grow your audience by creating viral memes for social media platforms.
Why Choose Supermeme.ai?
Supermeme.ai stands out from other meme generation tools due to its unique features:
Quality template database: Access high-quality meme templates without watermarks and offensive content.
True meme generator: Create memes using AI algorithms, not just basic image editing.
AI-powered: Supermeme.ai uses the power of GPT-3 to generate meme-appropriate captions.
Custom Watermark: Easily brand your memes using built-in tools, without the need for additional image editing software.
Meme APIs: Integrate Supermeme.ai into your own applications or chatbots using their comprehensive meme API.
What are unique features of Supermeme.ai?
Advanced search
Multilingual Memes
API access
Supermeme vs. IMGflip?
Visit website
Supermeme.ai AI tool was published in our directory on July 23, 2023.
Last updated: September 27, 2023.
What people are saying about Supermeme.ai
Other related tools
Text-to-emoji tool to generate custom emojis in seconds with the AI Emoji Generator. Turn your ideas into unique Slack emojis with just one click.
Generate beautiful AI spiral art with one click using Spirals, powered by Vercel and Replicate.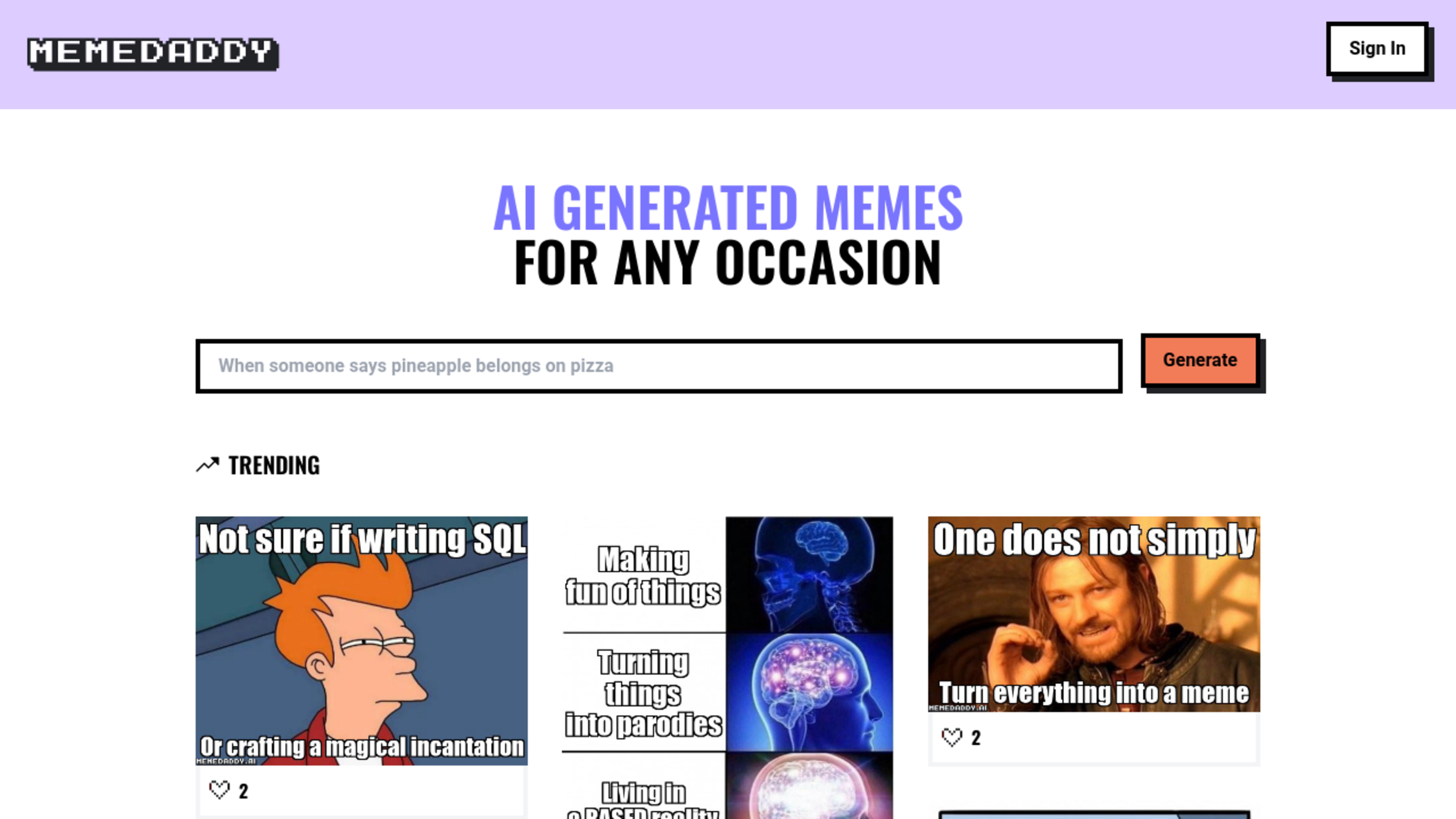 MemeDaddy is an AI-powered tool that generates trending memes for any occasion.